ANITA MINT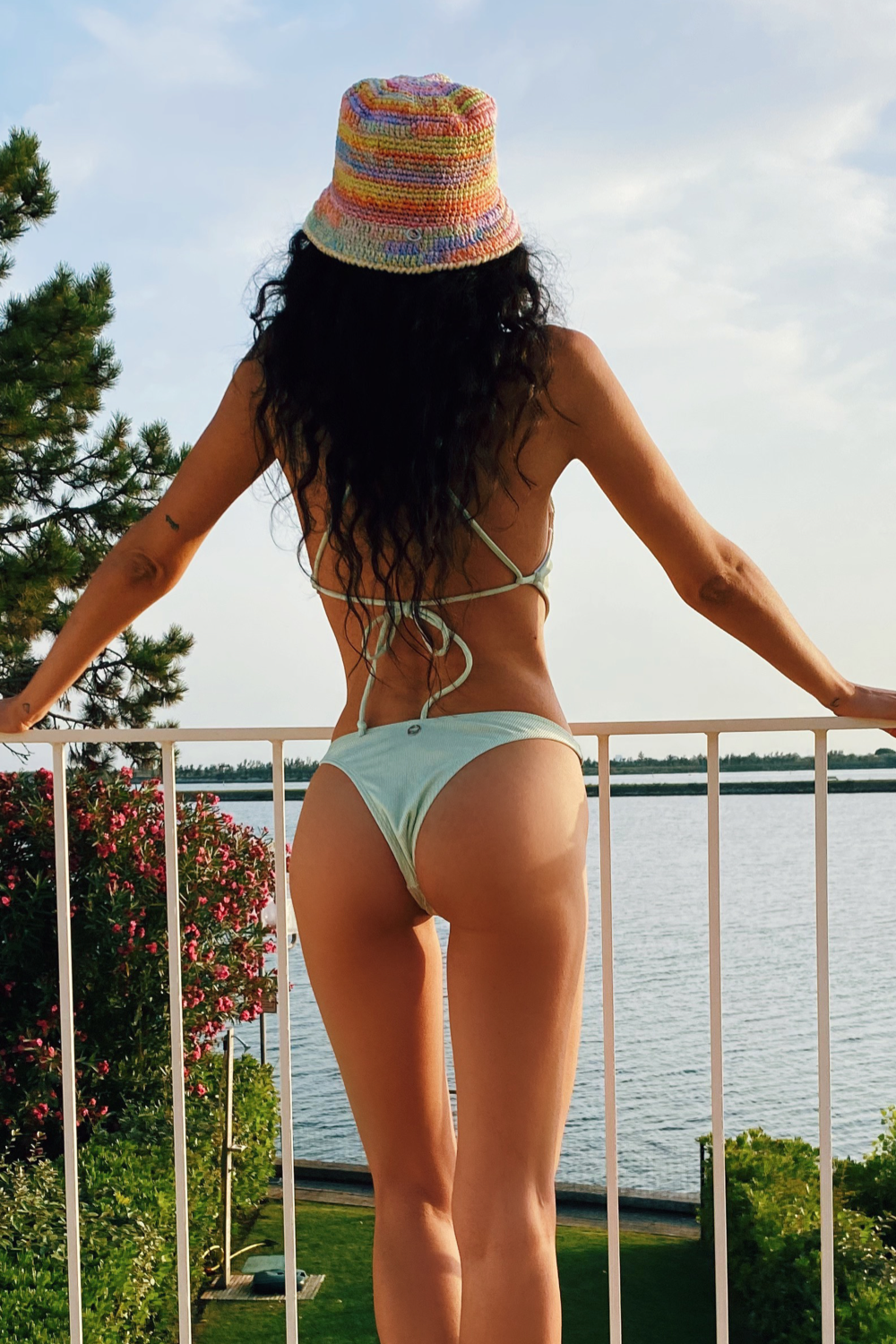 DESCRIPTION
70's Preview! Pastel Color and Knit Fabric, for this Dreamy Kini! High Waist Brazilian Panty, and Geometric Crop Top with removable padding, and fully adjustable tiny crossing Straps on the naked back, to wear also with your fav jeans, for a trendy Casual/Party Summer Outfit!
Accessories: logo Tag, hand stitched on the back of the Panty
Available
Size: S - M - L
Color: MINT - LILAC - BLACK - PASTEL BLUE
INFO&DETAILS
COMPOSITION

Soft Knit Fabric



LAVORAZIONE

MADE IN ITALY

SIZE

Model wears size S
FIT

S: fits 1a / 2a, size 38 / 40

M: fits 3a, size 42

L: fits 4a, size 44
DESCRIZIONE
70's Preview! Colore Pastello e Tessuto in morbida Costina per questo Bikini da sogno! Con Brasiliana a Vita Alta e Crop Top Geometrico di tendenza, con imbottitura rimovibile e lacci sottili a incrocio, regolabili su schiena nuda, da indossare anche con i tuoi fav jeans, per il perfetto Casual/Party Outfit Estivo!
Accessori: targhetta con Logo inciso, cucita a mano su parte posteriore della Brasiliana
Disponibile
in taglia: S - M - L
Colore: MENTA - LILLA - NERO - CELESTE
INFO&DETTAGLI
COMPOSIZIONE

Morbida Costina

LAVORAZIONE

MADE IN ITALY

TAGLIA

La modella indossa la 

taglia S
FIT

S: veste 1a / 2a, taglia 38 / 40

M: veste 3a, taglia 42

L: veste 4a, taglia 44